文/謝爾庭 Writer/Hsieh Er Ting
攝影/陳繼遠 Photographer/Chen Chi Yuan
金工產業歷史悠久,知識博大精深,技法變化萬千。然而,在過去都被歸類於工藝及藝術領域,與一般大眾距離較遠。草山金工是台灣金工體驗服務的先驅者,在2006年首創金工體驗課程,並於2013年進駐松菸誠品。14年來,成功打造出台灣首屈一指的金工體驗品牌。無數顧客在此親手製作屬於自己的金工首飾,體驗金工之美。
Metalworking is a historic industry, with profound knowledge and ever-changing techniques. However, it has long been viewed as crafts or arts, far from people's daily life. KINJO is one of the pioneer brands of metalworking experiential courses in Taiwan. KINJO initiated metalworking experiential courses in 2006, and successfully entered the Eslite Spectrum Songyang Store in 2013. For over 14 years, KINJO developed into a leading brand of metalworking experiential courses. Numerous customers have made their unique jewelry in KINJO and experienced the beauty of metalworking.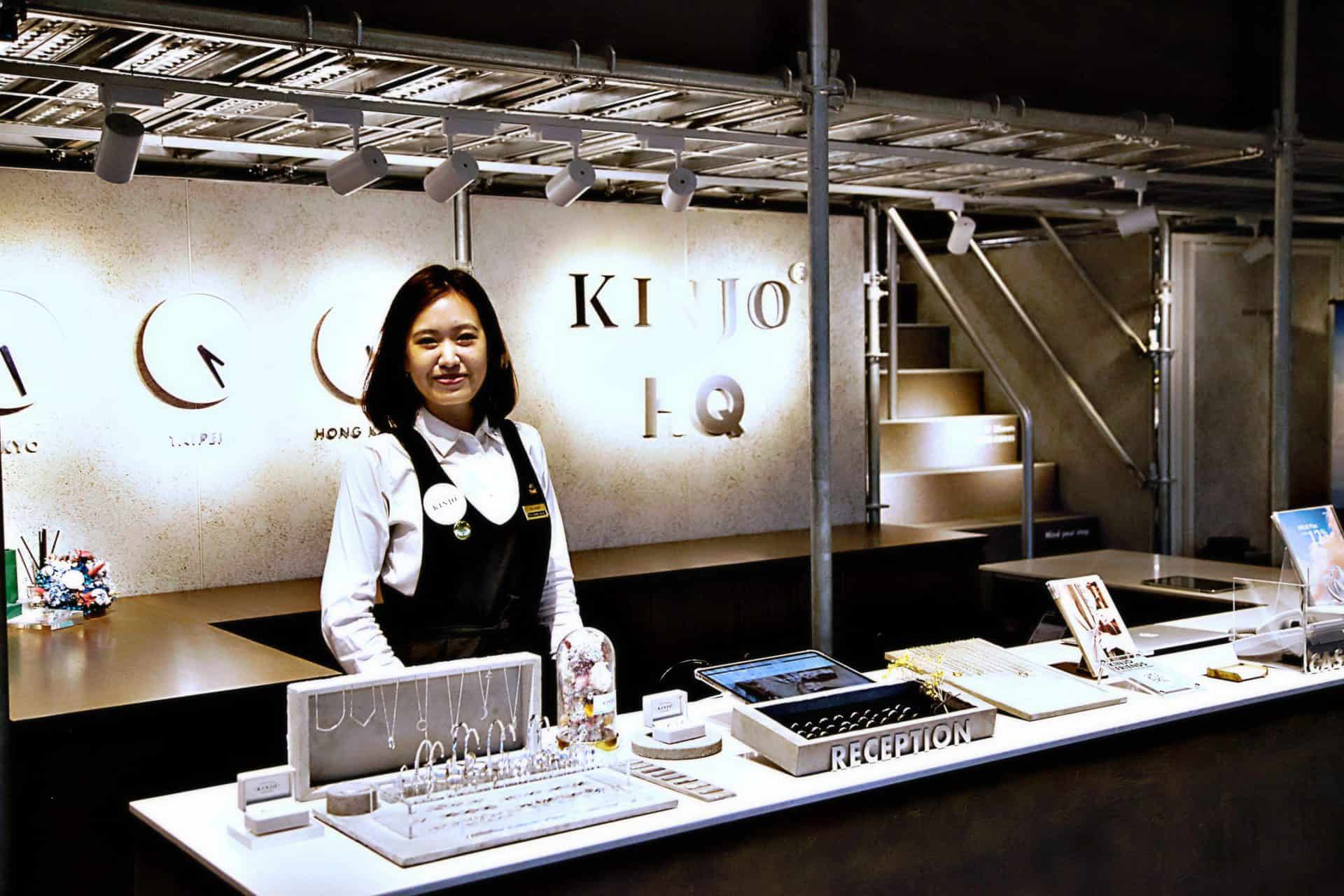 本次專訪邀請到草山金工創辦人劉冠伶,分享草山金工如何從一間在天母巷弄內的小教室,成長為至今在全台有多家分店的知名品牌。此外,草山金工的經驗,也呈現一項過去工藝色彩濃厚的技藝,邁向標準化、規模化及品牌化的過程。
This interview invites Liu Guan Ling, founder of KINJO, to share the story of KINJO: how they thrived from a humble studio in Tianmu into a renowned brand with a series of branches. The case of KINJO also demonstrates standardization, scale-up, and brand-building regarding a skilled craft.
創立品牌:因空間氛圍而起的緣分
Where It Started: A Story Built Around the Space
劉冠伶畢業於台南藝術大學應用藝術研究所,專長於金工創作。畢業後她短暫投入職場,並於銘傳大學兼課。這段期間,她時常遇到同事和朋友對金工技藝感興趣,因此開始運用在學校的教案,開起體驗課程。
Liu Guan-Ling graduated from the Institute of Applied Arts, TNNUA, and specialized in metalwork and design. After graduation, she briefly entered the workplace and taught part-time at Ming Chuan University. During that time, her colleagues and friends often showed interest in metalworking craftsmanship. She, therefore, started workshops among friends using the teaching plans in school.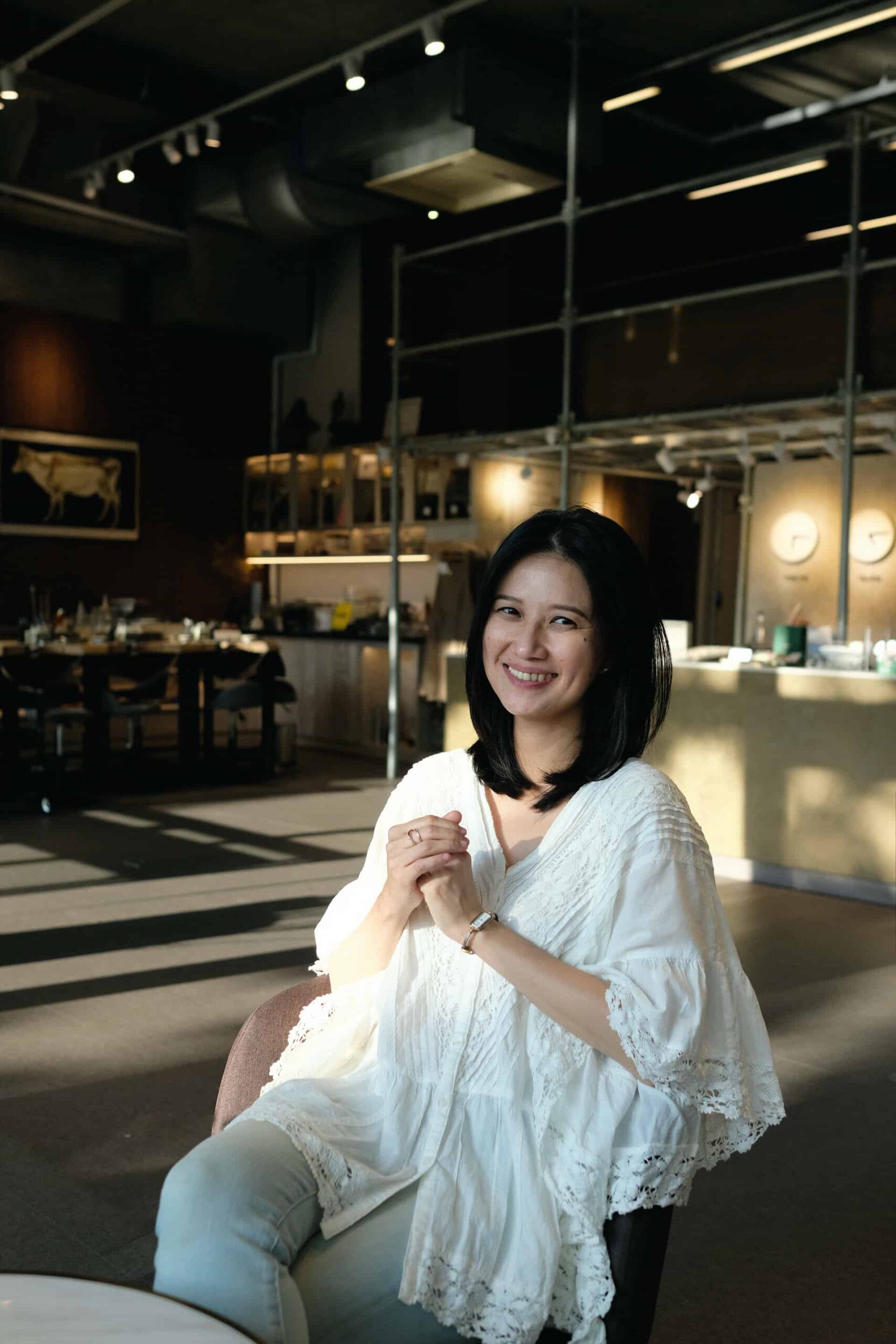 冠伶自陳,創業契機其實沒有什麼偉大之處,當身邊匯聚越來越多想學習金工技藝的朋友,總不可能永遠屈就在家裡陽台教課,因此2006年在天母巷弄內租起一間六坪大的小空間作為教室。熱愛空間氛圍的冠伶,相信空間能凝聚人群,孕育夢想,而工作室需要品牌名稱,便以陽明山的舊名「草山」為名,英文名稱KINJO,則源於台語「慶祝」之意。
For Guan-Ling, the kickstart of KINJO is quite ordinary. Conducting courses on the balcony forever is unpractical. When more and more friends appealed to metalworking, Guan-Ling started a tiny studio less than 20 square meters in Tianmu as a classroom, in 2006. As for the studio's brand name, Guan-Ling picked "Cao shan (Grass Mountain)," the former name of Yangmingshan, while the English name "KINJO" came from the word "celebration" in Taiwanese.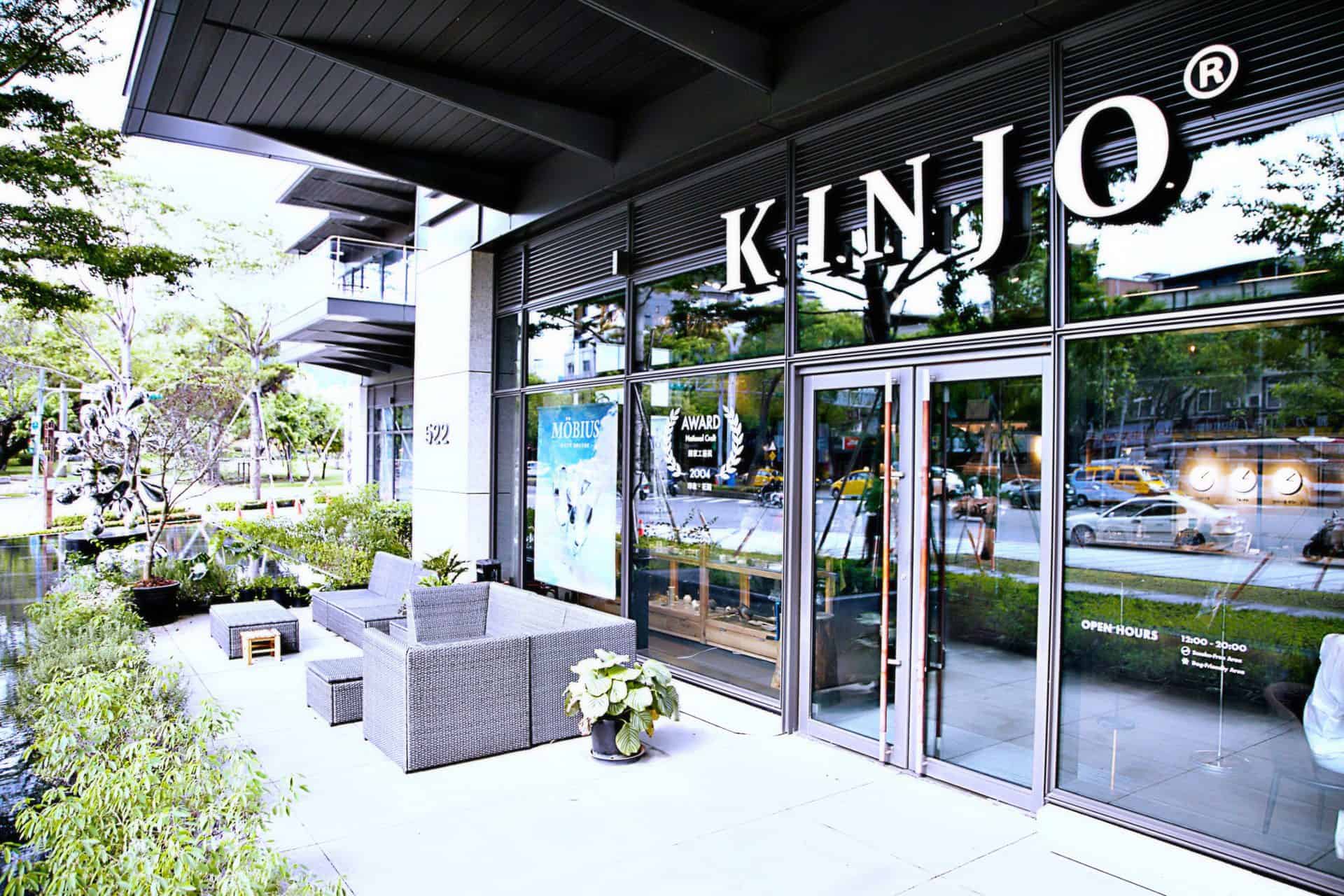 進駐誠品:艱難卻值得的品牌轉型時刻
Entering the Eslite Store: A Tough but Worthwhile Moment of Brand Transformation
草山金工初期完全以個人工作室運作,專注開設金工體驗課程。直到2010年代初期,誠品準備在松菸計畫開設全新定位的分點,主打台灣在地工藝品牌。冠伶很幸運地在規劃階段就參與其中,2013年,草山金工正式進駐松菸誠品。
At the early stage, KINJO operated entirely as a personal studio, concentrating on metalworking experiential courses. In the early 2010s, the Eslite Store was preparing a brand new branch focusing on Taiwanese craft brands. Luckily, Guan-Ling involved in the planning process very early, and KINJO successfully entered the Eslite Spectrum Songyang Store shortly after.
進駐誠品是草山金工品牌轉型的關鍵時刻,也是一場豪賭。「進駐完成後,我的戶頭只剩三萬塊。」冠伶笑說。草山金工選擇進駐松菸誠品有幾項原因,一方面預期誠品品牌間的加乘力量,另一方面希望能觸及更多喜愛金工工藝的客群,最後,誠品的品牌形象也與草山金工不謀而合。
For KINJO, entering the Eslite Spectrum Songyang Store was not only a critical moment of transformation but also a big gamble. "There's only NT.30,000 left in my bank account after that". Guan-Ling said with a bitter smile. There's a couple of reasons for doing so. On the one hand, Guan-Ling anticipated the synergistic effect between the brands in Eslite Store to thrive. On the other hand, KINJO hoped to attract more people interested in metalworking crafts. Lastly, the brand image of the Eslite Store matched with KINJO.
然而,當習慣一對一課程的工作室進駐大型百貨通路,首先面對組織團隊的課題。誠品明確表示不希望進駐品牌只銷售商品,必須提供豐富的體驗課程。因此,草山金工必須徹底重組既有的課程安排,並妥善安排人力。傳統的長期多天課程,並不適合來去匆忙的百貨客群,草山金工為此竭盡心思,將課程濃縮到四小時。即便如此,初期在時間控管上仍常有狀況,時常百貨都要關門,客人跟老師還做不完,排課也經歷漫長的調整。
However, when a studio accustomed to one on one courses entered the big department store, organizing an adequate team became the primary issue. The Eslite Store emphasized that stationed brands must provide sufficient experiential courses, aside from selling products. As a result, KINJO had to re-organize the entire course arrangement and reallocate the staff. The traditional long-term courses were not suitable for hasty customers in a department store. KINJO had strived to condense a typical course into 4 hours. Even so, time control remained troubling for KINJO, and sometimes sessions were held over the store closing time. It also took much effort to optimize the course arrangement.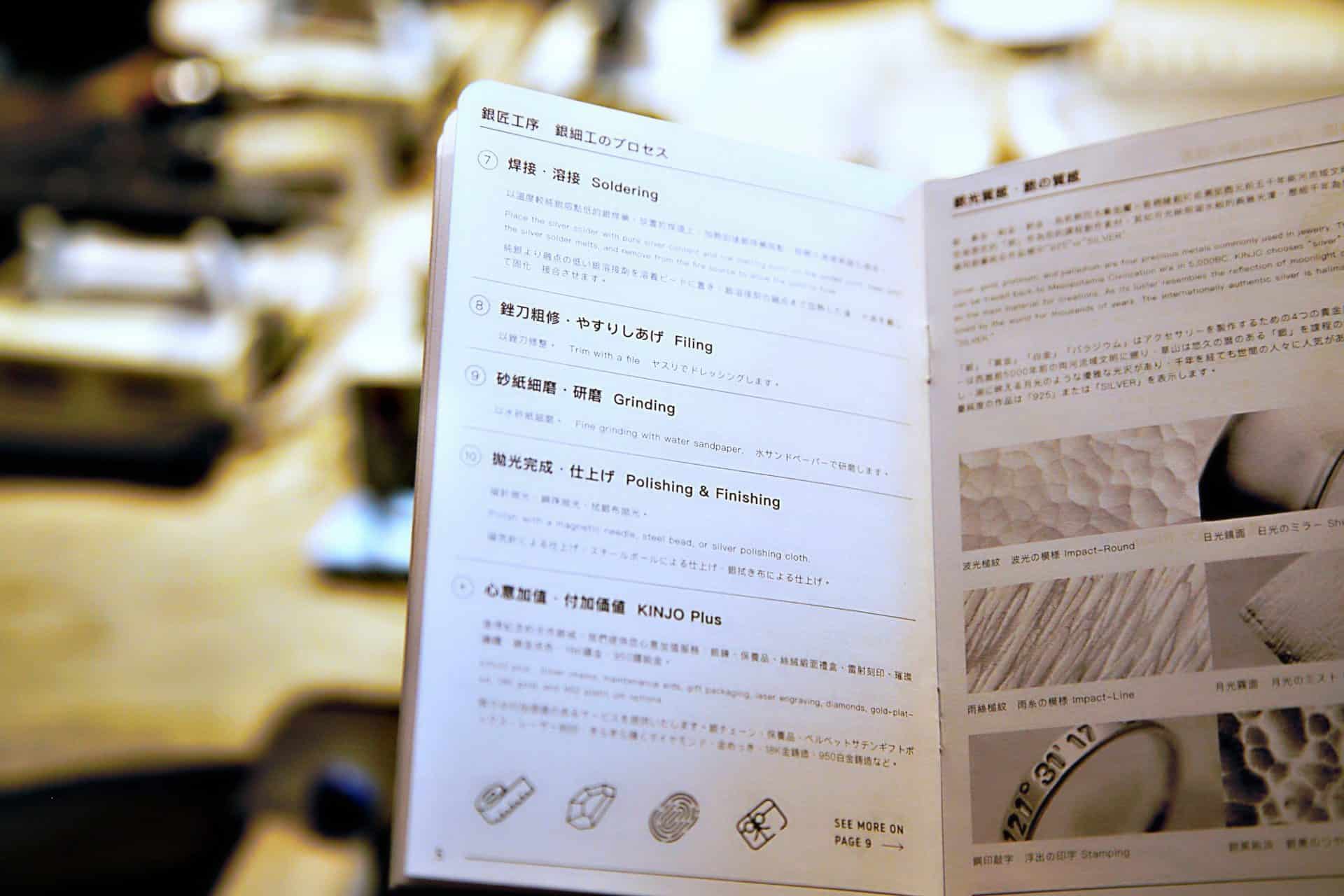 最後,草山金工重新區分自身客群,將短期體驗課程安排在百貨,長時間或更高單價的產品產出,例如珐瑯、木目金,則轉往工作室進行。誠品通路的大量曝光,大大提升草山金工的知名度,也迎來後續許多商業合作的機會。
In the end, KINJO managed to regroup its customers. Short-term experiential courses occur in department stores, while the studio provides the long-term ones or products with higher unit prices, such as enamel and mokume-gane. The brand exposure came after entering the Eslite Store has elevated the KINJO's reputation and brought many business cooperation opportunities.
為體驗定價:從核心價值出發
Pricing the Experience: Core-Value as the Startpoint
「我們沒有學習對象,也沒有參照對象。」金工體驗在台灣是全新市場,作為開拓者,草山金工並沒有太多可依循的模式。在創業最關鍵的「定價策略」上更是如此:冠伶曾嘗試以免費課程創造口碑,最終宣告失敗。顧客大多報名沒有限量也沒有限時的免費課程,導致老師時間與精力都被浪費。
"We had no one to learn from, nor a reference." Metalworking experience was a whole new market in Taiwan bach then. As a pioneer, KINJO doesn't have many established patterns to follow, especially regarding the pricing strategy, a crucial part of entrepreneurship. Guan-Ling once tried to hold free courses, hoping to build up an early reputation, only ended up as a total failure. The free courses lack time, and quota limitation continued to attract customers, wasting most of Guan-Ling's energy and time.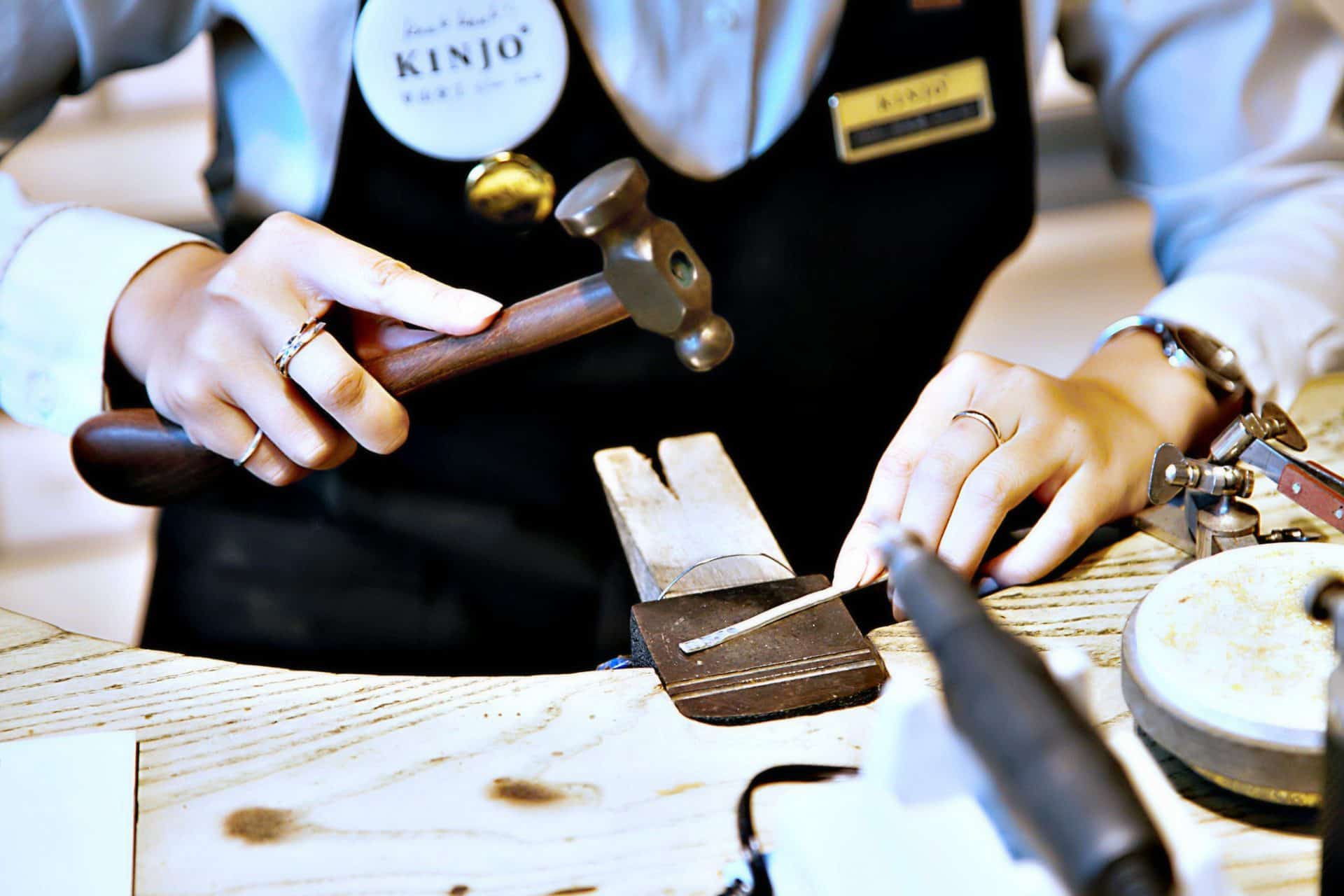 關於有效的定價策略,冠伶認為不能只考量成本,而需思考附加價值。顧客不只考慮標價,而更在乎能在體驗中得到什麼。低價不代表顧客就會買單,甚至可能帶來對品質的不信任。而要提出足夠吸引人的附加價值,最重要的是設定客群,如果不清楚客群定位,只能且戰且走,不停搜集顧客回饋,才能有所本的調整。
In Guan-Ling's view, an effective pricing strategy considers not only the costs but also the added value. Customers care more than price tags and value more on what a perfect experience can offer. A low price doesn't guarantee more sales and may even damage the customer's trust in the quality. The key is to set the right target customers to raise the added value attractive enough. If you don't know your customer's orientation, take it one step at a time and relentlessly collect feedbacks to adjust accordingly.
以草山金工為例,目前主要客群大致分為兩三萬單價的婚戒客群,及三千到六千之間的大眾客群。草山金工更推出「KINJO Plus」服務,提供包裝、對戒設計、周邊小禮物等等附加價值,精準打中客群心理。草山金工的課程定價也不是一次到位,而是長期從顧客回饋中積累而來。此外,也會每年檢討,並搭配短期行銷活動不斷調整。
For KINJO, the current customer bases can be separated into two groups. One is the customer of wedding rings, pricing roughly NT.20000-30000, the other one aims for the regular products, pricing from NT.3000 to NT.6000. KINJO provides an original service called "KINJO Plus," which includes special packaging, customized ring design, and little accessory gifts to choose from. Such service meets consumer psychology more accurately. The right pricing of courses is not set in the first place but is instead learned from years of customer feedback. Furthermore, the strategy is reviewed annually for modification and comes along with short-term campaigns.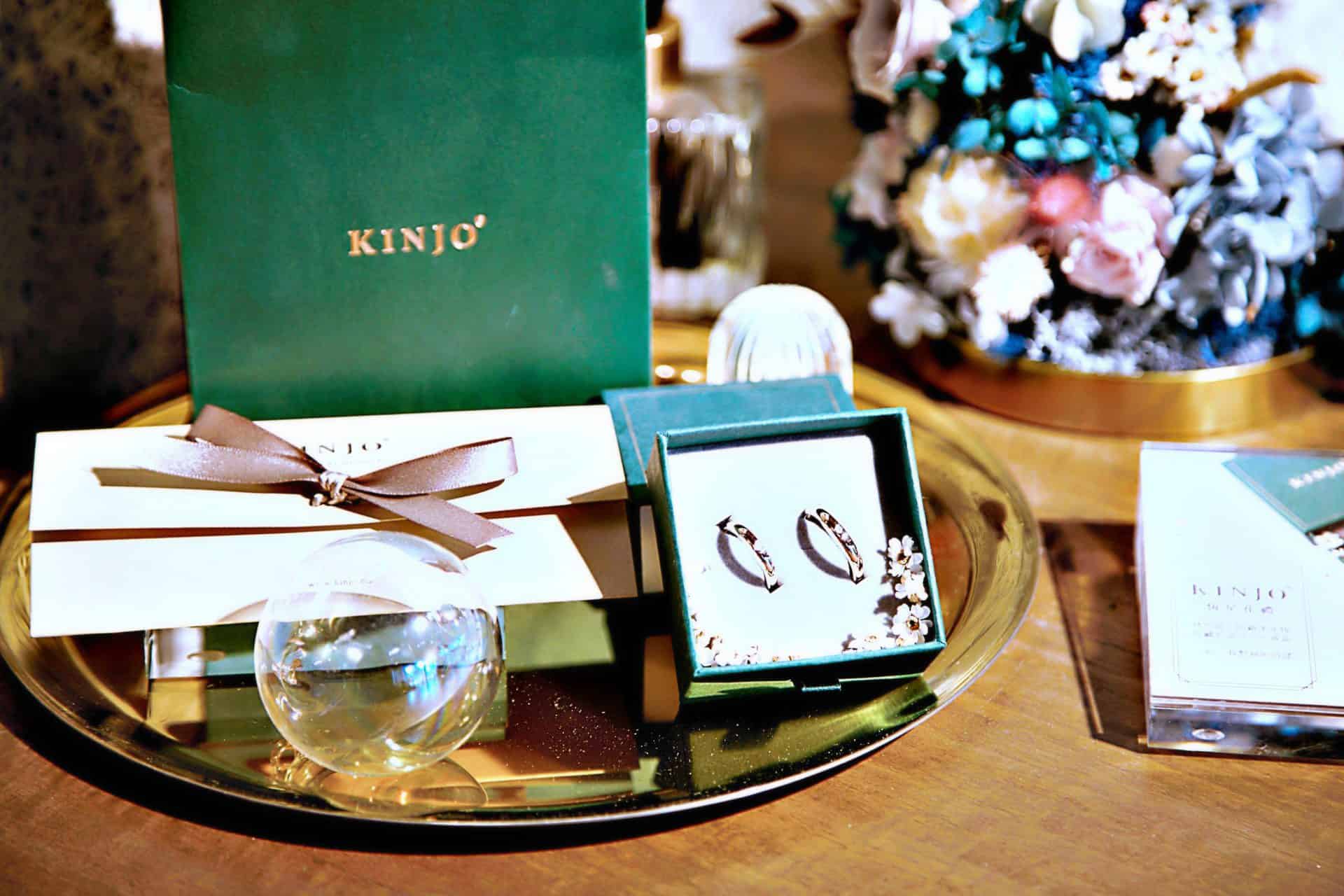 模組化及標準化:品牌擴大規模的必經之路
Modularization and Standardization: The Only Way to Scale-up the Brand
以金工工藝發展商業品牌,讓冠伶以全新角度看待金工。相較於過去金工創作的自由自在,金工課程設計必須清楚界定每項工序的先後順序及輕重緩急。同時,需要簡化製作工序,就連新產品的研發時間及成本都要納入考量。
Developing a business brand lends a novel perspective for Guan-Ling. Designing metalworking courses requires a clear definition of priority in production processes, contrasting with craft creation, which retains more freedom. Furthermore, the production process must be simplified and consider the time and costs required for research and development.
為了幫助顧客更快上手,草山金工也研發許多金工設備。例如參考古書設計的金工桌搭配一人一套的研磨機及相關器材,大幅改善多人課程的製作效率。設備模組化,也幫助展店時計算成本。
To help customers get started quickly, KINJO has also developed many metalworking equipment. For example, workbenches are designed according to ancient book guidance and provided with individual toolsets, enhancing the production efficiency of multi-people courses and help control the costs of opening new stores.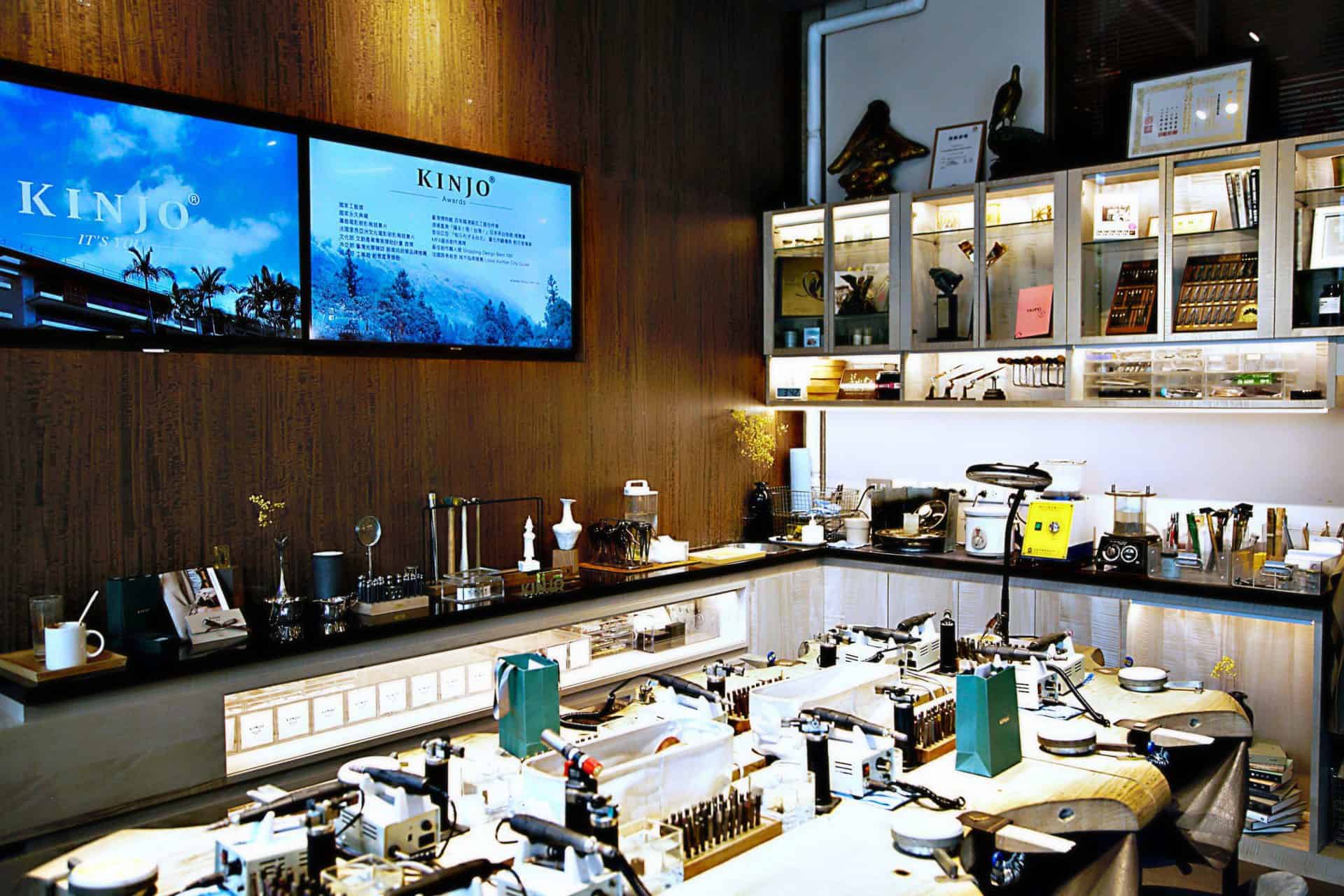 客人希望能完整體驗製作過程,卻又要避免過度複雜與危險的工序,面對這項兩難,草山金工的解決方法是:「找到能有最多變化的原材料」。冠伶提到,目前門市使用的材料大概不超過五種,卻能變化出超過三十種商品。例如同一種銀條,可以製作成耳環及項鍊等不同尺寸的商品。
Customers appeal to the complete experience of production but avoid processes too complicated or dangerous. To deal with such a dilemma, KINJO finds its solution by using the most variable material. Guan-Ling mentioned that materials currently used in stores have less than five types, but can transform into more than thirty products. For example, the same kind of silver bullion can turn into various products like earrings and necklaces in different sizes.
從產品研發、工序設計到空間規劃,模組化及標準化的概念幫助草山金工更清楚掌握每個環節所能帶來的效益,團隊也才能在14年成長到至今50人的規模。
From space planning to process design and product development, KINJO grasps every segment's benefits under the concept of standardization and modularization. And grow to fifty people staff scale in fourteen years.
與團隊及合作夥伴同行,共創新趨勢
Create New Trends while Accompanying with Teams and Partners
身為品牌經營者,讓冠伶體悟到,人事培養雖需漫長時間,卻是一切問題的核心。品牌創業者千萬不能有「我自己來就好」的心態,要學習將人放在對的位置上,懂得跟團隊相處,甚至帶領合作夥伴,共同迎向未知的創業之路。一旦在重要關頭選擇回歸一個人的舒適圈,就錯失品牌化的契機。
As a brand director, Guan-Ling realizes that human resources management, however time-consuming, lies in every issue's core. Entrepreneurs of a brand must avoid the mentality of "I can do it myself." They must learn to put staff in the right place, cooperate with the team, and even lead business partners on the unknown road of entrepreneurship. Once retreat to the safe-zone at any critical moment, you miss the opportunity of successful branding for your business.
對冠伶來說,經營商業品牌本身也是一種「創作」。不論是規畫店面空間氛圍,或設計讓顧客滿意的課程,讓一切「不只是這樣」,是現在創作之於她的意義。金工體驗是極具台灣特色的創新,也是到最近,金工這項古老的工藝傳統,才有了年輕、時尚的精緻形象。如此成就,歸功於所有人在不同領域的共同努力,不僅是工藝品牌,也包含百貨與展演等通路。
For Guan-Ling, directing a business brand is also a kind of "creation." Whether designing the store's space atmosphere or series of satisfying courses, to make things "more than that" is what creation means for her now. The metalworking experiential course is a unique innovation in Taiwan. Not until recently, does this ancient tradition gain a young, fashion image of delicacy. Stake-holders in various fields attribute to such accomplishment, including craft brands and sales channels like the department stores or exhibitons.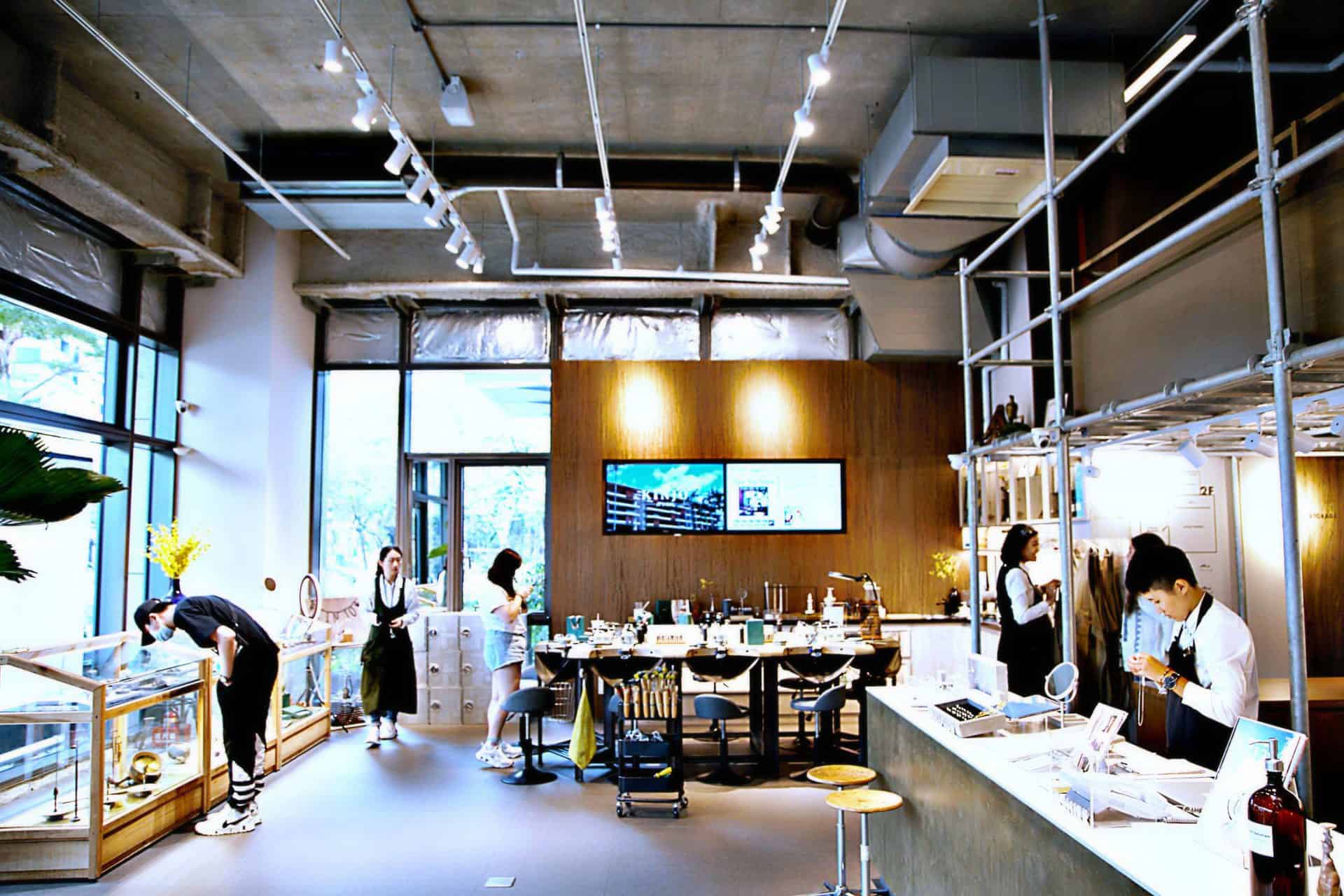 展望未來,草山金工正積極探索電商領域。例如推出「快遞傳情」的體驗電商服務:由顧客指定款式細節,職人製作後寄送到顧客指定地址,甚至是寄給國外親友。未來,草山金工也期待能跟更多品牌共同激盪、合作。草山金工始終秉持手作精神:透過親手體驗金工製作,每個戒指都被賦予獨特的意義。不論是結婚週年、生日或各種值得慶祝與紀念的日子,與每個人的故事連結,這或許才是工藝體驗真正的價值所在。
Looking into the future, KINJO is actively exploring the e-commerce field. For instance, the "7 Express" service allows customers to designate a product style with detailed requirements. Craftsmen will help fabricate the product and send it to their designated address even to friends or families abord. KINJO is also looking forward to having more collaboration with other brands. KINJO endlessly unholds the hand-made spirit: experiencing metalworking with one's hand can deliver unique meanings to every ring. From wedding anniversaries, birthday to every date worth celebrating and remembering, linking with everyone's life story may be the real value of craft experience.
---
Pop Up Asia Trade Fair 亞洲手創展
松山文創園區 三、四、五號倉庫
2020/11/19(四)~11/22(日)
10:00am~6:00pm